H-Camp
Last week started off on a high note, with me attending H-Camp at Camp Kulaqua. H-Camp is an outdoors honors retreat for 75 incoming freshmen each year. Despite much of the weekend spent being either waterlogged or blisteringly hot, I had a good time getting to know the other honors students.
One of the first activities was performing a small skit. Our group's was in the style of American Idol – with me being the infamously initialed judge Avery Simon Segal.
Our Randy was a famous shampoo salesperson with a signature Zoolander 'look', which we used for our team photo.
Later were several group 'teambuilders'. One of them involved placing clothespins all over one person in the middle of a circle. They were blindfolded and given two noodles to use as weapons while everyone else attempted to retrieve as many clothespins as possible without being hit.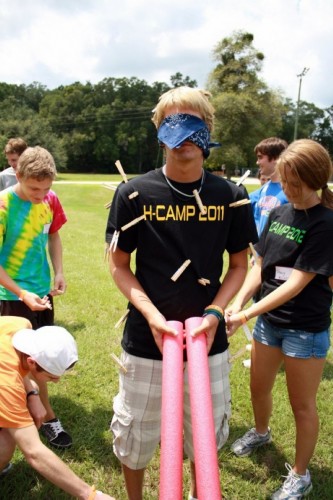 Another great game, Titanic, involved following commands in groups of 2-6 until gradually everyone was eliminated.
Other notable events at the camp include going on my first hay ride-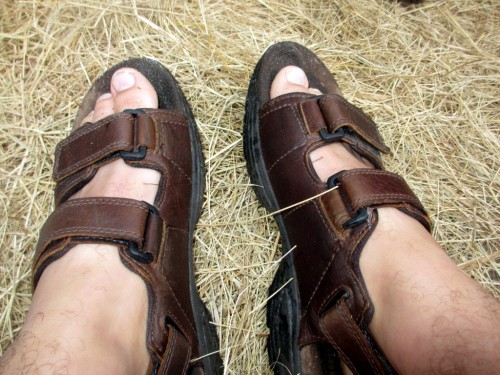 and seeing an absolutely massive spider.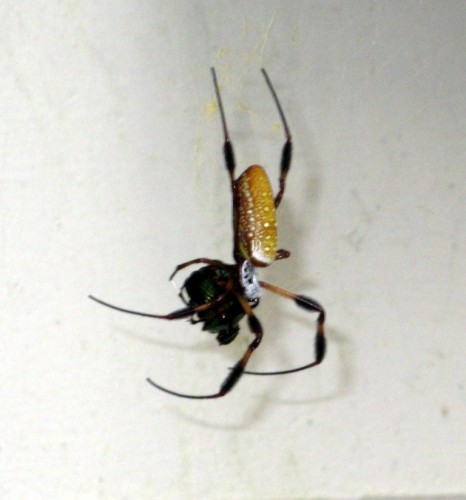 More H-Camp photos can be seen on the UF Honors Program Facebook page.
 Convocation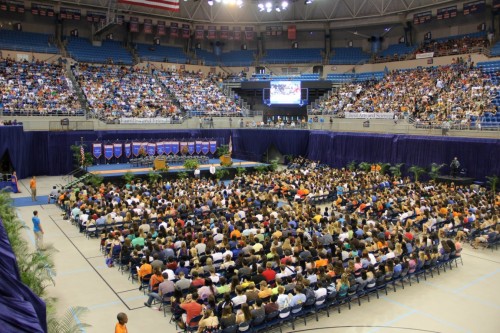 On a scale from 0-10 [with 0 being Rebecca Black's talent and 10 being Morgan Freeman's voice] , I'd say this was about as enjoyable as a One Direction concert.
New student convocation, as stated in seven e-mails and four postcards, is the "formal ceremony and only time that the Class of 2016 will be together in one location." I sat with the College of Liberal Arts and Sciences, in-between two overly friendly "exploratory" majors.
Gail Simmons, author of the 2012 UF common reading program book was in attendance. I was highly looking forward to her speech as an American journalist who spent years in Afghanistan during the Taliban era – but was disappointed as she spent most of the time summarizing the book. This was likely done to accommodate the people who hadn't read the required reading yet, but I was still disheartened since [I'm sure] she has countless stories she could've told which were not printed in her book.
Getting Lost
Following convocation, I thought it would be good to 'get to know the town' a little better. Instead of calling a friend to be picked up on-campus, I decided to try and take a bus home for the first time. This was the beginning of the end…
To start off, I needed to make my way to the cross street north of campus, University Avenue. Somehow I ended up walking the wrong direction all the way through campus, down a massive hill, and for nearly half a mile before my 'sneaking suspicion that something was wrong' overpowered me. I confirmed with a construction worker that I was 'directionally challenged' and retraced my steps in the opposite direction.
Once I reached University Avenue, I found my bus easily. I got off at the correct stop and began walking home. But during the 45 minutes while I was walking 'home', the fluffy white puffs in the sky metamorphosed into ominous black clouds of death, and began to unleash their wrath upon me.
I quickly found shelter near a Holiday Inn and called my roommate, Matt. After explaining my surroundings to him for several minutes, I could hear the shock in his voice. "You walked all the way over there?! Take a bus the way you came for about two miles and then walk in the opposite direction."
I inevitably made it home. Later that night, my brother's iPhone from California arrived and I expected to never get lost again thanks to its GPS functionality.  My iPhone glee wore off yesterday when I somehow wound up riding my bike five miles out of the way towards the interstate as I was trying to ride home.
 OAR
Earlier this week, my friend Patrick woke me up during my mid-afternoon nap and asked me to go with him to an OAR [Outdoor Adventure Recreation] club meeting. I groggily agreed, and we made it to their first meeting of the year.
The club defied my expectations, and I'm looking forwards to becoming an active member. Students organize OAR trips nearly every week, and the club gets special deals with Spirit Airlines to travel domestically and to Central/South America for extremely cheap prices.
After the meeting ended, OAR hosted a nighttime canoe ride in Silver River State Park. We canoed for about two hours and ended up seeing owls, egrets, red bellied turtles, and baby crocodiles. One experienced OAR members actually picked a crocodile out of the water so we could take a better look.
 Pascal's Coffee
My lifelong friend,  Christina,  introduced me to Pacal's Coffeehouse, and I am in love. Located right by the UF campus, their fair trade organic drinks are locally roasted and are an overall titillating experience.
Their java chip 'chiller' was absolutely fantastic – thick, exorbitantly rich, and with itty-bitty chunks of chocolate in every sip.
All of this deliciousness less than five minutes away from the majority of my classes… Hello 'Freshman 15′!