Mauritius: Port Louis
Tropical paradise, cruise-ship hub, and once home to the now extinct dodo bird. With only one day in Mauritius and a 70% chance of rain, my plans of what to do there were unclear.During breakfast the skies were fairly clear so Celeste, Allie, and I made plans to hike Le Pouce mountain near Port Louis. But after going through the debarkation and security line, I was shocked to see that the weather had turned into a vicious storm. We huddled under a tent for several minutes before venturing out with backpacks covered and no umbrellas. Instantly drenched, we bundled into the first taxi we saw. It ended up being $25 for about a half mile ride. Nothing like providing the local economy a stimulus package, eh?


We arrived to the waterfront as the weather continued to worsen. We scouted out a gelateria with WiFi, and I decided to suffer through a bowl in exchange for the WiFi password. The things I do for internet…

The 'spaghetti gelato' was scooped and then put through a gelato press. I'm not sure if the shape had any effect on the flavor, but it did seem extremely silky and was loads of fun to eat.
After our snack, we relaxed while waiting for the rain to abate. After over an hour with no let-up, we decided to just take our chances and brave the outside. We headed to Port Louis market to spend the afternoon.


What I loved about Port Louis market was the design. The first floor was a traditional local market with vegetables, fruits, and meats while the second floor was full of souvenirs. I stood on the staircase watching people interact in the market for only about 15 minutes, but could've spent hours there.


The below man tried to sell the same bunch of herbs to every passerby. Every attempt of his failed.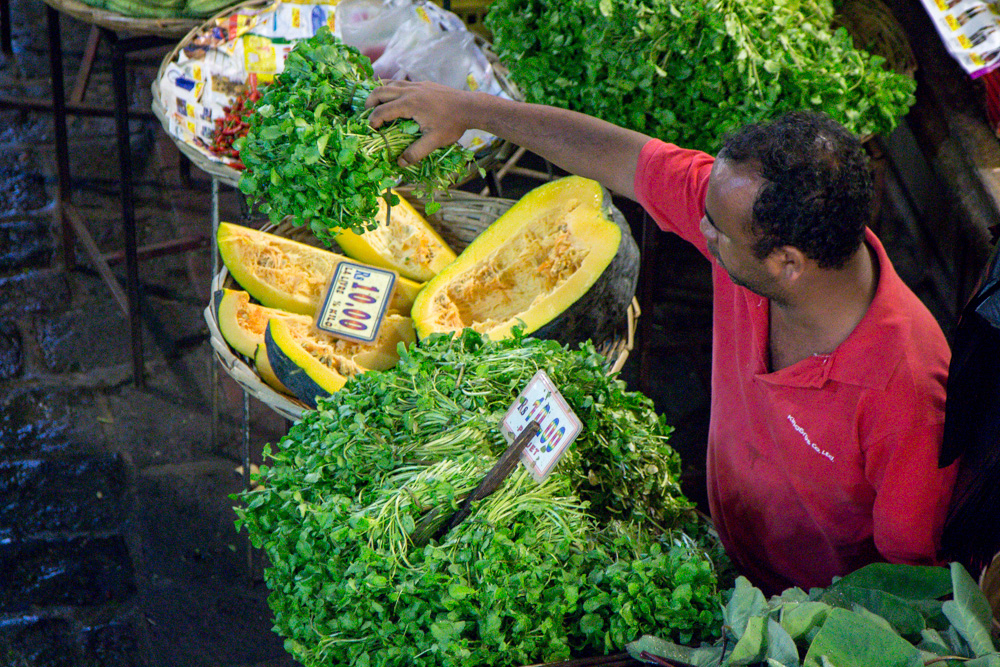 I found it slightly ironic that nearly every souvenir seemed to commemorate the extinction of the dodo bird. Nonetheless, I am coming home with one of the following carvings.


Just as we were leaving, the weather began clearing up. But regardless of the weather, Mauritius provided an important break and I was glad to be on land – even if just to eat gelato.